Asia Pacific Reference Frame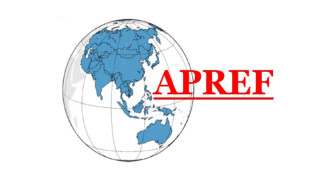 The member countries of the 18th United Nations Regional Cartographic Conference for Asia and the Pacific
(UNRCC-AP; October 2009, Bangkok) recognised the importance of a consistent and improved regional geodetic framework and agreed to improve the reference frame in Asia-Pacific region.
Asia Pacific Reference Frame (APREF) was materialised to create and maintain an accurate geodetic framework in the Asia-Pacific region in order to fulfil the requirements of a vast subset of users in surveying, industry, research organisation and general public.
Background and objective
There are numerous GNSS networks in the Asia-Pacific region but these networks are sparse and in-accessible compared to Europe and Americas. Moreover these networks are also not inter-linked or linked to the global frame. This absence of sharing data has a degrading impact on the accuracy and nature of geodetic analysis that can be performed.
The short term objectives of APREF are to:
Foster GNSS data sharing in the Asia-Pacific region
Develop and maintain a reliable source of coordinates and velocities for geodetic stations in the region
The longer term objectives of APREF are to:
Work in cooperation with IGS to create and maintain APREF permanent CORS network
Increase the contribution of APREF stations to the International Terrestrial Reference Frame (ITRF)
Provide more infrastructure to support geodetic projects
Establish a dense velocity field model in Asia and the Pacific for scientific applications and the long-term maintenance of the Asia-Pacific reference frame
Organise regular symposia addressing activities carried out at national and regional levels related to the work and objectives of APREF.
More details about the project are available here.
Curtin APREF analysis
(a) Processing strategy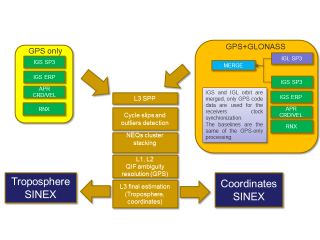 (b) Velocity field estimate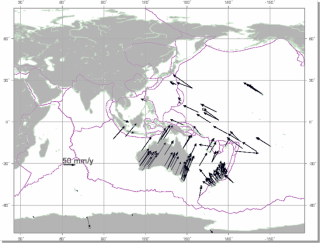 (c) Position residuals