News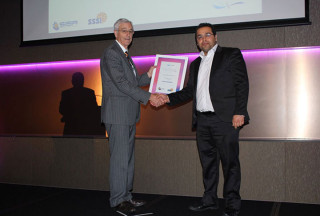 WASEA Excellence Award 2015 for PhD Student Amir Khodabandeh
The Western Australian Spatial Excellence Awards (WASEA) celebrate the achievements of top spatial information enterprises and showcase the finest projects that the Western Australian Surveying and Spatial Industry has to offer.
Projects and individuals attaining recognition at this premier event are deemed to be truly outstanding achievers and pre-eminent in their field.
PhD student Amir Khdoabandeh of Curtin's GNSS Research Centre received this year's Postgraduate student WASEA Excellence Award for his thesis on PPP-RTK. In his thesis, Amir provides a methodical and thorough approach to formulating a transformational framework for a novel method to PPP and RTK, the PPP-RTK, combined with rigorous mathematical derivations of the processing algorithms, and demonstrated with extensive performance evaluations. Most importantly, the generality of Amir's methods make his results directly applicable to the different next-generation GNSSs, such as modernized GPS (US), BeiDou (China), Galileo (EU), QZSS (Japan) and IRNSS (India).
WASEA is jointly hosted by the two organisations that created the concept and actively promote it: the Spatial Industries Business Association (SIBA) and the Spatial Sciences Institute (SSSI).
---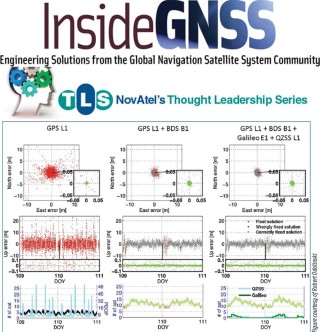 Multi-GNSS Precise Positioning: New Solutions, New Challenges
Appeared in Inside GNSS – Issue November/December 2014
---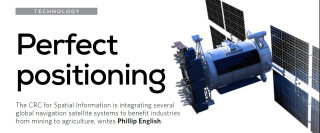 Appeared in CRCA Know How Magazine – Issue 3, September 2014
---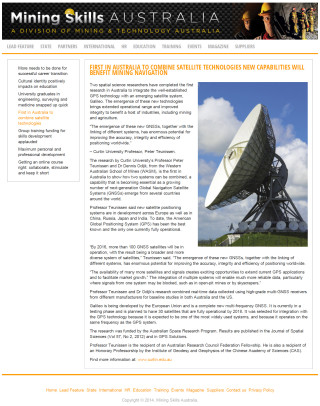 First in Australia to Combine Satellite Technologies New Capabilities will Benefit Mining Navigation
Appeared in Mining Skills Australia – A Division of Mining & Technology Australia, 2014
---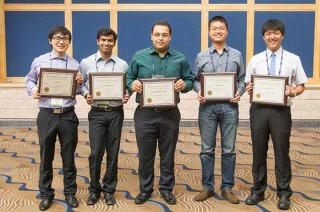 ION PhD Student Award for Amir Khodabandeh of Curtin's GNSS Research Centre
Each year, the Institute of Navigation (ION), founded in 1945, organises the world's largest international technical meeting of GNSS technology. This event has been hosted on an annual basis for the past 27 years and is attended by over 1500 navigation professionals and engineers from over 40 countries.
As a part of the GNSS conference's technical program, the institute sponsors a competitive student paper contest. Technically elite students from around the world author technical papers on satellite navigation and positioning for the opportunity to present their papers at the conference, have it published in the conference proceedings and have their conference travel expenses paid by the institute.
Mr. Amir Khodabandeh of Curtin's GNSS Research Centre (see photo) is one of only five students being awarded this prestigious ION-prize. The award carries high academic prestige, as many prior-year student award winners have become visible leaders in the engineering filed of navigation and positi
---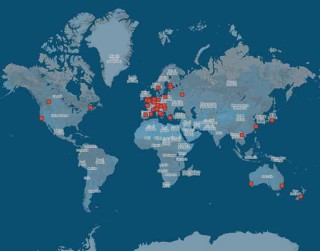 ESA Recognizes First Galileo Navigation Fixes By Curtin GNSS Research Centre
Curtin GNSS Research Centre received certificate from European Space Agency (ESA) in acknowledgment of early Galileo results.
---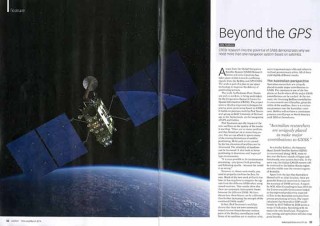 Appeared in Position – The Australian magazine of surveying, mapping & geo-information, pp 32-34, Issue 69, February/March 2014
---
Satellite integration improves city navigation
Appeared in Position – The Australian magazine of surveying, mapping & geo-information, Page 8, Issue 67, October/November 2013
---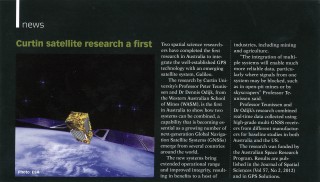 Curtin satellite research a first